Our coffee is grown at 1450 meters to 1520 meters (4772-5003 feet). It is Lempira Variety Canal Washed process: Chocolate and caramel flavors and a very clean cup. This coffee is balanced and light. Please hit the Contact Us button above if you have any questions.
Veteran, Police, EMS, Firefighter Owned and Operated
Dan is a Service connected combat Veteran of CoC 3/75 and retired Corporal with Indiana State Police, He currently serves on the Wheatfield Vol fire Dept. Diana is a retired Paramedic and mother of 7 childeren 2 of them are Veterans,. .
How we got our Name
This is our custom built 1972 VW trike and the coffin that got us our name. After several knee surgeries Dan was not able to hold up a regular motorcycle and a conventional trike was out of the price range. Then the VW came along and it was back to riding, but everyone told Dan he looked like Herman Munster So the coffin trailer was added and Dan's new ride name became Coffin Man.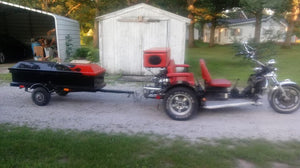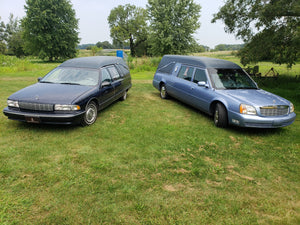 Delivery Vehicles
Here are our wo Coaches. The dark Blue 1996 Chevrolet Caprice Clasid is Dan's and the 2000 Cadillac is Diana's. Shall we say His and Hearse?